Today John will be discussing how to request a review when there is a policy violation.
I lead our external outreach efforts representing the policy team. My role is to help you, our publishers,
better understand our policies. And importantly, I also work with our internal teams to help them better understand the challenges you face.
Today, I'd like to talk about the process around requesting a review after notification of a policy violation, along with some tips for success. These can either be violations for content or traffic that is not policy compliant.
Additionally, these policy violations could be for either an individual page or your entire account.
In most cases, policy violations are for individual pages. Typically, if you have an entire account disablement, you should receive a notification informing you that your account has policy violations.
Entire account disablement could be for a variety of reasons, including but not limited to, your account may have an extensive history of policy violations or extensive history of repeat violations, demonstrated deceptive behavior on your account, or egregious policy violations.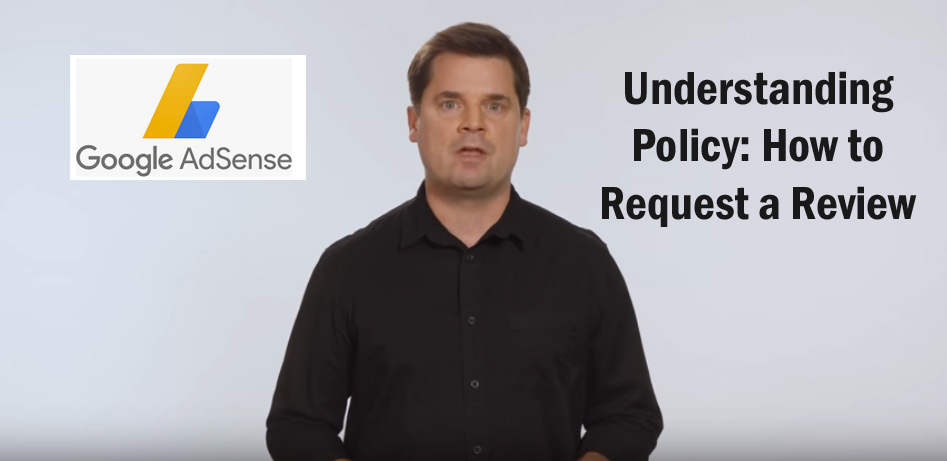 Let's go over how to request a review for a policy violation. Sign into your account, then navigate to the Policy Center. Here, you'll see which pages or sites of yours have policy violations, information on why your site
or page is in violation of a policy, the steps you need to take to comply with our program policies, and how to request a review of your page. To write a strong review, consider the following. First, understand the violation.
Visit our help center and review our policies and seek advice from our forum.
Check your entire site. Notifications you receive from us will contain an example of the violation. The same violation may appear on multiple pages, so it's a good idea to check other pages. Tell us what changes you'll make in the future to prevent this violation from happening again. This is especially important for traffic violations. And understand the big picture. Keep in mind that our policies are designed to protect the entire ecosystem.
Therefore, try to consider why a particular policy may be in place considering the needs of users, advertisers,
and publishers. Understanding the big picture helps to understand our policies and policy enforcement in general. Our ultimate goal is to help facilitate a healthy digital advertising ecosystem. The futures of Google and our partners are linked. And we believe in fostering an environment where users, advertisers, and publishers can all thrive in a healthy digital advertising ecosystem.
By valuing each party equally, we help ensure the sustainability of our industry. We hope this video helps you better understand how to submit a successful review to our policy team.
You can find more videos explaining our policies within the policy articles on our Adsense page. Thank you!